Each episode of the Physiological Reviews podcast features commentary and discussion of newly published articles in the journal, which provides state-of-the-art, comprehensive, and high-impact coverage of timely issues in the physiological and biomedical sciences. Physiological Reviews articles appeal to physiologists, neuroscientists, cell biologists, biophysicists, and clinicians with special interest in pathophysiology. The journal is very useful in teaching and research because it provides non-biased and clearly written updates on important developments.
Episodes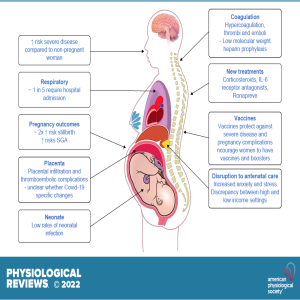 Tuesday Oct 04, 2022
Tuesday Oct 04, 2022
Physiological Reviews Editor-in-Chief Dr. Sadis Matalon speaks with Prof. Rebecca M. Reynolds, Prof. Sarah J. Stock, and Prof. Hilary O. D. Critchley about their editorial "Pregnancy and the SARS-CoV-2 Pandemic," published in the July 2022 issue of Physiological Reviews.
The authors also have contributed a review article on this topic, "Pregnancy and COVID-19," which was one of the most highly cited articles published in the journal in 2021.
Prof. Reynolds is Professor of Metabolic Medicine at the University of Edinburgh. Her research looks at the ways in which early development in utero can affect health and disease. Prof. Stock is Professor of Maternal and Fetal Health at the University of Edinburgh. Her research examines efforts at reducing preterm birth, stillbirth, and other complications in pregnancy. Prof. Critchley has held a Personal Chair in Reproductive Medicine at the University of Edinburgh since 1999. She is Head of the Deanery of Clinical Sciences at the University of Edinburgh, she is Co-Director of the Medical Research Council Centre for Reproductive Health, and she is Consultant Gynaecologist at the Royal Infirmary in Edinburgh. Her research is aimed at improving our understanding of the basic science of the uterine endometrium. She is an Associate Editor of Physiological Reviews.
Author introductions [0:41]
Efficacy of vaccination in diminishing the severity and long-term consequences of COVID-19 [6:44]
Does COVID-19 vaccination cause any significant side effects for the pregnant woman or the fetus? [8:08]
Are women who are pregnant at higher risk for COVID infection, and can the virus cross the placenta? [15:53]
Does SARS-CoV-2 affect the development of preeclampsia? [21:19]
What kinds of treatments are available -- and safe -- for pregnant women with COVID? Are there any animal models in which interventions may be tested? [24:05]
What other work is being conducted on this topic? [28:38]
Discussion of the effects of SARS-CoV-2 infection or COVID vaccination on menstruation [31:27]
Closing remarks [35:59]
Subscribe to the podcast here.
Browse recent articles on our website.
Subscribe to the podcast on Apple Podcasts, Google Podcasts, Spotify, and Amazon Music to receive immediate notification when new episodes are available.
Be sure to let your colleagues know about the podcast, and please rate and review it wherever you listen to it.
Follow the journal on Twitter and on Facebook.
Listen to other podcasts produced by the American Physiological Society.